Features:
· High Speed USB Interface
· There is no need Serial COM RS-232 Port
· Designed using SMD Technology
· High Quality Connectors
· Factory Professional Finishing
· Meets USB v1.1 and v2.0 Standard Specifications
· Unique bag for each cable
· Available USB port required in the Computer
Functions and Usage*:
· Phone Network Unlocking
· Flashing, Repairing and Language Change
Special Characteristics of the Venom Series Cables:
· Manufactured using the most advanced technology!
· Cables of EXTREME Quality Category 7 (UTP CAT7)!
· Pins and springs tested in factory a minimum of 50000 cycles!
· Maximum precision in design for a perfect attaching to the phone!
· Performance and the highest data transfer speed without errors!
· New generation cable for the most exigent Professional Unlockers!
Connection Type to the Computer: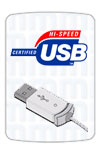 * = Available Functions always depending on the software you use.