Service Cable USB FTDI Type compatible with the following devices:
· 4SE Dongle
· NEROkey
· Fighter
· Cruiser
· USB Smart by Zulea
· Total MultiServer
· And definitely, any SonyEricsson Box or Server with compatible pinout
Functions and Usage*:
· Phone and Operator Network sim-lock Unlocking.
· Firmware and Software Update.
· Flashing, Repairing and Language Change.
· Reset or Read Phone User Code.
· Reset or Read Phone Security Code.
Connection Type to the Computer: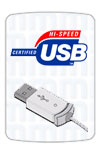 * = Please be informed that the cable be compatible with the above Service Tools does not mean that the latest available software version for the device has been updated in order to support any or whole functions of the concrete handset model. So please double check that the handset model is being supported by latest available software version of your device. Sometimes the working cables are available in the market before the device manufacturer releases the updated software which supports the handset model.