Compatible cable with the following devices:
· SETool 3 Box
· 4SE Dongle
· Polar Box
· Fusion Box
· Octopus Box
· And definitely, any Box with compatible with the below listed models.
SonyEricsson MSM8255 (QC8255) supported models by this special cable
· MT11 (Xperia Neo V / Haida)
· MT15 (Xperia Neo / Hallon)
· LT15 (Xperia Arc / Anzu / S0-01C)
· LT18 (Xperia Arc S / Ayame)
· R800 (Xperia Play / Zeus / S0-01D)
· Z1 (Xperia Play / Zeus)
· S0-02C (Xperia Acro / Azusa)
· IS11S (Xperia Acro / Azusa)
· ST15 (Xperia Mini / Smultron)
· ST17 (Xperia Active / Satsuma)
· ST18 (Xperia Ray / Urushi / S0-03C)
· SK17 (Xperia Mini Pro / Mango)
· MK16 (Xperia Pro / Iyokan)
· WT19 (Live with Walkman / Coconut)
· ...
Options that you must to check and enable in the [SETTINGS] tab in the SE Tool 3 Box software
[x] SIGNED MODE (SERVER USED FOR BYPASS/CSCA IF NEEDED)
[x] ENABLE ALTERNATIVE SECURITY BYPASS
[x] PERFORM "FULL UNLOCK" INSTEAD OF "USERCODE RESET"
IMPORTANT:
We recommend to use SETool 3 Box 1.1286 version or above to unlock these models using this cable and these options.
Unlocking example using this special cable with testpoint needle and without soldering anything

DETACH USB CABLE FROM PHONE
REMOVE BATTERY FROM PHONE
ATTACH TESTPOINT
PRESS "READY", THEN ATTACH USB CABLE TO PHONE

PROCESSING ...
REMOVE TESTPOINT NOW, THEN PRESS "READY"

PLEASE ATTACH TURNED OFF PHONE NOW
PRESS AND HOLD "BACK" BUTTON ...

RUNNING S1_LOADER VER "R4A062"
LOADER AID: 0001
FLASH ID: "002C/00B3"
LOADER VERSION: "R4A069"

PHONE IMEI:01270300363280
Checking for signature ...
Waiting for calculation process ...
signature found, skipping calculation
RESPONSE: "SUCCESS" [1187]

FINALIZING ...
Unlock DONE
Elapsed: 29 secs.

Features:
· High Speed USB Interface
· There is no need Serial COM RS-232 Port
· Designed using SMD Technology
· High Quality Connectors
· Factory Professional Finishing
· Meets USB v1.1 and v2.0 Standard Specifications
· Unique bag for each cable
· Available USB port required in the Computer
Functions and Usage*:
· Phone Network Unlocking
· Flashing, Repairing and Language Change
Connection Type to the Computer: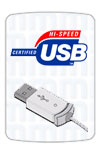 * = Available Functions always depending on the software you use.