Product Features
Use the 30-pin Dock Connector to HDMI to connect the iPad WiFi or 3G, the el iPad 2 WiFi or iPad 2 3G, the iPhone 4 or the iPod Touch 4G to your television, projector, or HDMI display. Then see your videos and slideshows on the big screen.
The HDMI Adapter connects the device or the Dock base via the 30-pin dock connector and to your projector or display using an HDMI standard cable (cable not included, sold separately).
Technical Specifications
· Compatible with all the iPad, the iPhone 4 and the iPod Touch 4G.
· Supports transmission of Video and Audio via HDMI connection.
· Its plug and play, there is no need of external power supply and also Jailbreak is not required.
· Supports HD resolutions including 720p/1080p Full HD.
· Supports videos, movies, Music TV, Podcasts, photos, 3D Movies, etc....
· Supports online videos embeeded into internet webpages, such as Youtube, including QuickTime format, ...
· Supports online radios, photos inside PowerPoint presentations, MP3 (on iPhone 4), ...
· Transmits audo of the online games and TV programs.
· It has HDMI v1.3 Type A 19-pin connector (Female) standard.
· Shows the iOS interface via HDMI, only Audio and Video (only in the new iPad 2).
· Do not support movies purchased through iTunes or files containing DRM protection.
Example of Connection Scheme of the HDMI Adapter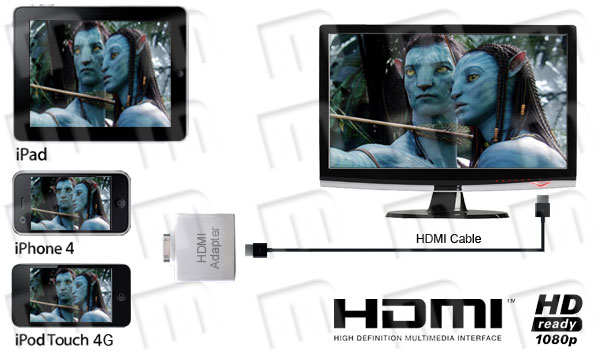 Frequently Asked Questions
Does this adapter works in the iPhone 3G and iPhone 3GS?
No.
Too bad luck, but ... Does it work on the iPod Touch that also has 30-pin Dock connector?
Yes, but only in the latest iPod Touch 4G (4th generation).
Does it work on all the iPad?
Yes, it works on the iPad WiFi, iPad 3G and in the latest iPad 2 WiFi / iPad 2 3G.
Do I lose my Apple products warranty?
Not at all.
Do I need the Jailbreak done in my devices to use this product?
No, this product works on all above mentioned products right out of the box. You do not need anything extra, or install any application.
What version of HDMI support in the output signal?
HDMI v1.3 and HDMI v1.3a and previous versions.
Supports HDMI v1.4?
No, do not add anything significant to the human eye and has been dismissed because consume more battery power and resources in your Apple device.
Supports any device with HDMI input?
If, for example, LCD TVs, Plasmas, Projectors, LED TVs, Home Cinema A/V Receivers, Hard-disk recorders, Multimedia Stations, Media Centers, etc... and ultimately, any device with "HDMI Ready" with an HDMI input.
Many accessories and cables that connect to the 30-pin Dock connector can not connect if I do not remove the case before
Do I have to get my Apple product out of the case to connect this adapter?
No. The manufacturer has thought about it and connector of this product has a 4mm supplement that is longer than usual, and therefore, the connection is perfect, even if you use your Apple product inside the case.
To purchase
HDMI Cables
in our store, please
click on this link
.
Dimensions and Connections
·
Height:
43 mm., including Dock connector: 53 mm.
·
Lenght:
53 mm.
·
Depth:
13 mm.
·
Weight:
18 gramns.
·
Operation temperature:
0 -> 50º C
·
Storage temperature:
-40 -> +85º C
·
Input port:
30-pin Dock Connector (3.3 volts / 120 mA).
·
Output port:
HDMI v1.3 Type A (Female) 24K gold plated and standard 19-pin (5 volts).
·
Filtro:
Yes, high end and fully digital.
·
Bandwidth:
5,7 Gbps
·
Vertical frequency range:
60 Hz
·
Maximum output resolution:
1920 x 1200 progressive.
Important:
This electronic device is designed to expand utility and functionality of your iPad, enabling use of legitimate content, backup of your original stuff or other various multimedia functions, such as, the manage of pictures, music or run free software (freeware), shareware and/or homebrew between others.
Remember that the use of unlicensed software is illegal and is punishable by law.