Connection Schematics: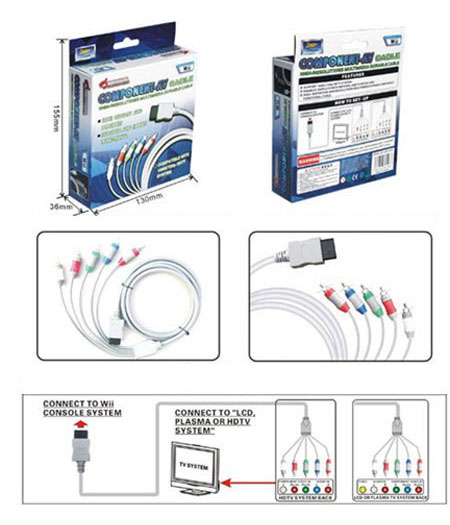 Product Description:
The component cable links your console to the TV allowing you to view and enjoy your games with the best possible image display.
Component video splits the signal into three separate channels of video information for the ultimate connection quality.
The cable has 2 ends: one is the connector to the console and another are the connectors for your TV (LCD, Monitor, Plasma, HD TV, LED TV, Amplifier A/V, Home Cinema, etc ...).
The TV connector has five connectors: three for video and two for stereo audio which are shown below:
· RCA Video Connector (Green): Y
· RCA Video Connector (Blue): Pb/Cb
· RCA Video Connector (Red): Pr/Cr
· RCA Audio Connector (White): Left Stereo Sound Channel
· RCA Audio Connector (Red): Right Stereo Sound Channel
Before using the Component Cable, make sure your TV can accept component video connections (they are usually marked Y, PB, PR and are coloured green, blue and red as explained above).
Showcase stunning high definition graphics with the component connection on your HDTV.
Play high quality audio with the included stereo connection even in Dolby Digital 5.1 systems or other audio settings.
The cable is shielded to prevent interferences with other electronic devices.