Main features
· Cell phones unlocking (network operator sim-lock opening).
· Permanent and full factory unlock.
· Unlimited use and without credits.
· Resets user and security code.
What are the advantages about to using this special HD7 Kit cable?
· The handset becomes 100% factory sim free.
· Accepts official and sim-free flashes much more modern than those from the operators.
· It updates the firmware to the latest free version directly from the phone menu (OTA Over The Air).
· Total decustomization and debranding like sim-free factory phones: no logos, no operator menus, ...
· It enables all the menus and functions that were hidden or capped by the operator.
Supported HTC models with Windows Phone 7 with the XTC Clip
· HTC HD / Mozart
· HTC HD7 / Shubert
· ...
Supported HTC models with the XTC 2 Clip
· All HTC phones that do not have microSD slot installed from factory.
This article includes the following products
1 x Official XTC Y Cable compatible with the XTC Clip and the XTC 2 Clip
To use this cable you need to have a XTC Clip or a XTC 2 Clip (sold separately and is also available on our online store).
Features:
· High Speed USB Interface
· There is no need Serial COM RS-232 Port
· Designed using SMD Technology
· High Quality Connectors
· Factory Professional Finishing
· Meets USB v1.1 and v2.0 Standard Specifications
· Unique bag for each cable
· Available USB port required in the Computer
Functions and Usage*:
· Phone Network Unlocking
· Flashing, Repairing and Language Change
Connection Type to the Computer: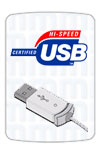 * = Available Functions always depending on the software you use.