Features:
· Serial Interface (COM Port RS-232)
· DB9 Female Connection (9 pins)
· Designed using SMD Technology
· Self-powered from Computer Serial Port
· High End Quality Connectors
· Factory Professional Finishing
· Cable with Ferric Core for interference reduction
· Meets RS-232C Standard
· Meets all V.28 Specifications
· Unique bag for each cable
· Available RS-232 Serial port required in the Computer
Functions and Usage*:
· Phone and Operator Network sim-lock Unlocking.
· Firmware and Software Update.
· Flashing, Repairing and Language Change.
· Reset or Read Phone User Code.
· Reset or Read Phone Security Code.
Connection Type to the Computer: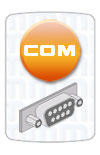 * = Available Functions always depending on the software you use.